Here is another useful app from SWC Tools package. It allows you to keep an eye on your defensive performance without logging into the game.
Using it is simple: just select your server (Windows or iOS/Android), enter your Player ID (can be found in "About" section of the game) and click Start. The application will be checking your defensive log every minute and display it as a simple list: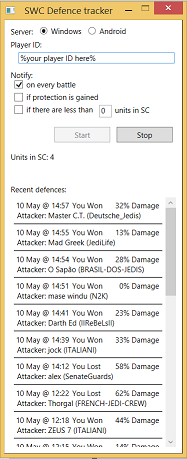 (click to enlarge)
It also will show you a discreet notification in the bottom right corner of your screen when a new defensive battle completes.These notifications can be configured by the three check boxes:
- Notify on every battle will show a notification every time a new battle occurred.
- Notify if protection gained will show a popup if you've lost a battle and need to log in and dump protection.
- Notify if there are less than X units in SC will alert you if your SC forces are depleted below the specified amount and you need to log in and request a refill.
The latest (and the first) version can be downloaded
from GitHub
.
It have been tested by my squadmates for a while and works good so far.
I haven't added anything malicious to this program but remember to always scan software downloaded from the Internet with your antivirus before running it.
Feel free to leave your feedback, ideas for new features and other comments.
EDIT:
I hope this will somewhat alleviate CNFO problem: if people are aware that their base is under protection they may log on shortly to dump it and play more defences allowing others to attack them.